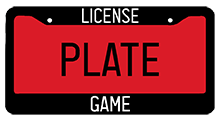 License Plate Game
Welcome to the license plate game where you try to solve each personalized license plate.
Please spell out words correctly, avoiding slang or informal language. For example, type "you" instead of just typing "u".

While you're at it try crossing out all 50 states.
Game score: Right=0 Wrong=1 (0%)
INTERESTING TID-BIT:
Mississippi is known for its Southern hospitality and rich cultural traditions, including music, literature, and cuisine.
651,704 total license plates generated since 2/22/23.
We at License Plate Game DO NOT condone drunk, impaired, or distracted driving. Please don't use your phone while driving.
License Plate Game © 2023
Contact us at: [email protected]
Please check out our other websites:
Magen Emberton Photography - Woodturning by M.E. - MagenEmberton.com